NCSLA Hall of Fame – Vince O'Brien
E. Vincent O'Brien (1937 – 2015)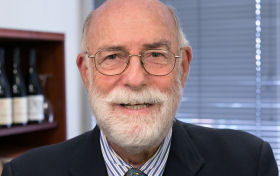 Vince O'Brien spent his entire professional legal career dedicated to Beverage Alcohol Law, ultimately becoming one of the foremost global experts in both domestic and international legal issues pertaining to the field. He joined the law firm of White & Case out of law school, and was assigned to its Joseph E. Seagram & Sons, Inc., account on his very first day. Five years later, he was named General Counsel and Director by Seagram, and was later elevated to Executive Vice President while maintaining his roles as General Counsel and Director. Vince later joined forces with Abe Buchman in creating the beverage alcohol boutique firm of Buchman & O'Brien. In June of 2004, following the retirement of Mr. Buchman, Vince joined the New York office of international law firm Nixon Peabody, where he established the firm's Beverage Alcohol Group and continued to expand his ever-increasing knowledge and impact on the industry.
Vince was a frequent lecturer and speaker on beverage alcohol issues at international symposia and conferences, and his engagements included four published presentations at World Intellectual Property Organization (WIPO) global symposia concerning appellations of origin. He had also been a guest lecturer at Aix-Marseille Law School in France, and was named as a member of a special industry advisory committee to the U.S. Patent and Trademark Office regarding wine and spirits intellectual property issues during the Uruguay Round GATT negotiations. In 2006 and again in 2007, Vince was named one of New York's Super Lawyers. He was the senior member of the U.S. delegation to the International Federation of Wines & Spirits and an advisor to the Laws & Regulations Working Group of the International Wine Office. He was a founding member of the International Wine Law Association and author of a chapter on Beverage Alcohol Law Practice for West's Guide to New York Practice. He was born in Jersey City, New Jersey, received a J.D. from Fordham Law School, an MBA from New York University Graduate School of Business, and an LLM in taxation from the New York University Graduate School of Law. He has been honored by wine societies in France and Hungary and is a recipient of the Chevalier de l'Ordre Mérite Agricole bestowed by the French government.
Despite the rather lengthy and impressive tone of Vince's resume, anyone who knew him was more familiar with his kind nature, warm humor, and unbridled love of Hawaiian shirts — it is an understatement to say he lived his life out loud, as loud as those shirts he loved so much. Vince spoke often of how incredibly lucky and happy he was to be part of this industry, how it was more of a family and full of incredibly passionate and creative people, and that he couldn't imagine having done anything else with his life. He was always ready with sage advice and earnest counsel, not just because it was his profession, but because it was his nature.