NCSLA Hall of Fame – Lynne J. Omlie
Senior Advisor to Distilled Spirits Council CEO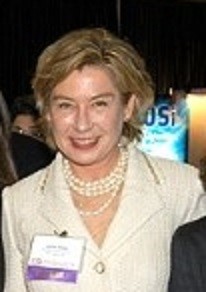 Lynne Omlie currently serves as Senior Advisor to the President for the Distilled Spirits Council of the United States (DISCUS)—a national trade association representing producers and marketers of distilled spirits and importers of wine sold in the United States. DISCUS is involved in matters that span virtually every legislative, regulatory and legal issue connected with beverage alcohol on a federal, state and international level.
For more than three decades, Ms. Omlie has been a critical part of the DISCUS leadership team. Before moving into her most recent role, Lynne served as Senior Vice President, General Counsel and Secretary for the Distilled Spirits Council of the United States, Inc. (DISCUS).  Ms. Omlie served as staff liaison for the DISCUS Code of Responsible Practices for Beverage Alcohol Advertising and Marketing, the DISCUS Laws and Regulations Committee, and many other important DISCUS Committees.
Prior to joining DISCUS, Lynne was in private practice at Howrey & Simon. And, before her tenure at Howrey & Simon, she worked at the Federal Trade Commission as an advisor to Commissioner David A. Clanton.
Lynne has been an instrumental member of NCSLA since 1987. She has dedicated the greater part of her career to the beverage alcohol industry and has contributed to the overall success of NCSLA for decades. She has served on numerous NCSLA panels as both a moderator and panelist, chaired the Best Practices Committee, and contributed in countless other ways as a leader in this industry. She has been tenacious in these pursuits for as long as she has been in the industry and the organization has directly benefitted from her tireless efforts and incredible foresight.
Lynne is an industry leader and trailblazer in bringing together government officials and other stakeholders to forge improvements in the beverage alcohol industry. She is well-recognized among her peers as an expert in all matters relating to beverage alcohol—whether it be trade practices, regulatory initiatives, or litigation trends. Among her many talents, she is known for her expertise in all matters concerning responsible beverage alcohol advertising and marketing.
She has been a mentor to countless new and seasoned veterans in the beverage alcohol industry. Her efforts have spanned decades and include beverage alcohol regulators and industry members alike. She has always gone out of her way to help others with compliance questions and has shepherded the industry through innumerable times of crisis or uncertainty.
Lynne's dedication to the beverage alcohol industry is unparalleled and the industry is most fortunate to have her by their side. Perhaps even more important, Lynne is a dedicated and loyal friend, generously sharing her wisdom, love of family, and support from her canine sidekicks.