NCSLA Hall of Fame - A. Keith Burt
Director, Oklahoma Alcoholic Beverage Laws Enforcement (ABLE) Commission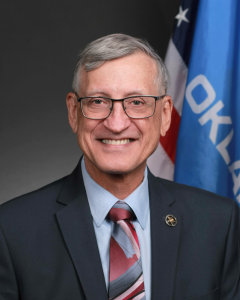 Keith Burt has devoted his remarkable 44 year career to serving the People of the State of Oklahoma under eight different governors. As the beloved face of Oklahoma alcohol regulation, he is a 40 year member of the National Conference of State Liquor Administrators, Inc. where he served as an executive board member for 9 years, leading to his term as President from 2017-2018. For his dedication to the alcoholic beverage industry and public safety, Keith has been repeatedly recognized both in Oklahoma and nationally, having received three separate gubernatorial appointments to public safety task forces and advisory councils, as well as receiving the 2014 Leadership in Alcohol Regulation Award from the Center for Alcohol Policy.
Keith's career would bring enough satisfaction to any driven individual, but it is merely the tip of the iceberg for him. He was a successful men's and women's AAU basketball coach, putting together some of the best amateur talent with little to no money. These teams would routinely play and win exhibition games against prominent Division I NCAA teams coached by hall of fame caliber coaches such as Bobby Knight, Bill Self and Billy Tubbs.
Basketball did not stand alone in his extracurricular pursuits, as Mr. Burt enjoyed all facets of sports as well as music. Beginning his college experience on a music scholarship, he eventually transitioned to focus on a degree in finance and accounting. Keith would go on to own several race horses which competed at world-renowned racetracks across the country. He is also a non-professional poker player, successfully competing in and cashing at the 2009 Main Event of the World Series of Poker in Las Vegas, Nevada.
Keith and his wife, Laurie, enjoy spending time between their homes in Oklahoma City and Las Vegas. In their free time you can catch them using mulligans on the golf course, enjoying the newest movie release, or in light of recent times due to COVID, discovering the meaning of "binge watching." They also enjoy traveling the world, especially to the beautiful beaches of Florida where their son, Brian, and his family reside, and to the majestic mountains of Colorado where daughter, Shelley and her husband, Jeremy live. Keith is extremely proud of his wife, children and grandchildren, and rarely misses an opportunity to share his pride with the world. As Keith is fond of saying, of all the titles he has held his favorite by far is Dad. He is a great husband, dad, friend and mentor, and is extremely honored to be inducted into the NCSLA hall of fame.