NCSLA Hall of Fame – Charles Smarr
Shareholder, Brydon, Swearengen & England, PC.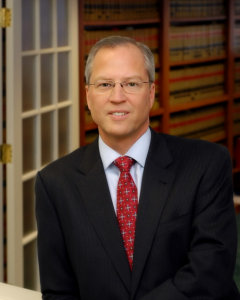 Charles Smarr is a Shareholder and Chair of the Beverage Alcohol Industry Group of Brydon, Swearengen & England, PC, in Jefferson City, Missouri. Charlie has devoted the entirety of his legal career to the Beverage Alcohol Industry and has long been recognized as one of the Industry's leading experts. Starting 38 years ago, and continuing today, Charlie has worked tirelessly to expand his knowledge of the Industry. Charlie is uniquely qualified to be a beverage alcohol attorney with his ten years' experience in state government as an assistant attorney general and state liquor administrator.
Charlie began his legal career in 1982 serving as Assistant Attorney General for Missouri Attorney General John Ashcroft representing the Missouri Division of Liquor Control in its legal matters. In 1984, he was appointed by Governor Kit Bond to be the Missouri State Supervisor of Liquor Control. At 30 years of age, he was the youngest State Supervisor ever appointed to that position. In 1985, he was re-appointed by newly elected Governor John Ashcroft to continue as the State Supervisor of Liquor Control. Charlie served as State Supervisor until 1993 when he went into private practice with the law firm of Brydon, Swearengen & England where he began his private practice of Beverage Alcohol Law. For the past 27 years, Charlie has worked at the same law firm and today he is the lead shareholder of the firm.
Charlie's distinguished service with the National Conference of State Liquor Administrators (NCSLA), included serving on the Executive Committee, and serving as the Central Region Chairman, and National President in 1990-1991. He has been a speaker on beverage alcohol issues at many NCSLA and Industry conferences. He has represented associate members on the NCSLA Executive Committee as the Industry Representative and has assisted with the planning of NCSLA programs for the national and regional meetings.
Charlie has received many awards and recognitions for his work. He was recognized by the United States Department of Treasury with the first TTB Outstanding State Liquor Administrator award. He received the Outstanding Member award from the National Association of Licensing and Compliance Professionals for his work in helping found that group. He has been listed in The Best Lawyers in America since 2011 for his high caliber work in the practice area of beverage and food law. Since 2015, he has been co-chair of the American Bar Association's (ABA) Committee on Beverage Alcohol Practice.
Charlie was born in Columbia, Missouri, where he has lived his entire life. He received his B.A. from the University of Missouri-Columbia where he was a member of the Honors College and a walk on for the Mizzou basketball team. Following graduation, he worked for the University of Missouri for four years as the Director of the MEDIC Program, a program that helped with job placement for returning veterans from the Vietnam War, and was also Director of the University of Missouri's first adult independent study program allowing adults to take university courses remotely through the utilization of videotapes of the University's professors for those specific courses. In 1982, Charlie earned his J.D. from the University of Missouri-Columbia.
Charlie and his wife, Teresa, live in Columbia, Missouri, where they raised their son, Brian, who currently lives in Las Vegas, Nevada. Charlie enjoys staying active by working out at the gym, paddle boarding on the lake where they live, and working at his farm near Columbia. In addition to his legal career, Charlie has been actively involved in philanthropic matters as a member of the University of Missouri's Jefferson Club, and has been an ardent supporter of the University of Missouri School of Law. Charlie traveled to Israel in 2011 and 2012 to participate in the Volunteers for Israel (VFI) Program where he was embedded with the Israeli Defense Forces on army bases in the Negev Desert and the Golan Heights. The VFI program is for volunteers to provide support assistance for the Israeli Defense Forces.