NCSLA Hall of Fame - Abraham M. Buchman
Abraham M. Buchman (1916-2007)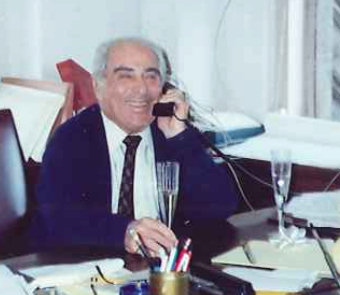 "Abe" was born in Brooklyn, New York in 1916 and grew up there. As a young kid, he was always very adventurous. He was also an excellent student. He received a Bachelor of Arts, cum laude, from New York University in 1935, a Bachelor of Laws, cum laude from St. Lawrence University in 1938 and a Doctor of Juridical Science, summa cum laude from St. Lawrence University in 1939. He was admitted to the practice of law in 1939 to the Appellate Division of the Supreme Court, Second Department, New York State; in 1946, to the United States District Court, Southern District of New York; in 1949, to the United States Court of Appeals; in 1949, to the Interstate Commerce Commission; and in 1964, to the Supreme Court of the United States.
Abe was involved directly in the wine industry as a teenager in his family's New York winery. He also worked as a plant manager and comptroller from 1932 to 1939 for Atlas Import and Export Corporation, a wine producer in New York, Pennsylvania and California and an importer and distributor of foreign wines. There he supervised every division of operations and also established new plants. His interest in wine carried over into his legal practice, which he co-founded with his brother, Henry, as the firm of Buchman & Buchman in 1939.
Abe received a commission in the U.S. Air Force at the Harvard Graduate School of Business Administration in 1942. Serving until 1946, he reached the rank of Major. From 1946 through 1952 he served as a consultant to the Secretary of the Air Force. He was consultant to the State Department at the various meetings of the Council of Europe on the preparation of a convention for wines and spirits. A truly gifted attorney, Abe was present and counseled the early "pioneers" of the alcoholic beverage industry. Abe was an internationally recognized leader in the beverage alcohol industry, and lectured throughout the country and in Europe. He served as counsel to many trade associations: the American Wine Association from 1939; the Vermouth Institute from 1943 to 1954; the International Vermouth Institute from 1964; Federazione Italiana Industriali, Produttori ed Esportatori Di Vini, Acquavit, Liquori, Sciroppi, Aceti ed Affini from 1962; the Independent American Whiskey Association; and the Presidents' Forum from 1990.
In 1985, a Fellowship in Administrative Law was founded at Columbia Law School in Abe's name. In 2004, he was the first person to be inducted into the Hall of Fame of the National Conference of State Liquor Administrators.
Abe's unique experiences formed the basis for his skills as lifetime mentor to his partners, Firm associates and even regulators and as a sought after advisor to Firm clients. Abe was always generous with his time and applied his remarkable skills equally to clients large or small. His wisdom and sound advice is missed by all who knew him.