When:
Sunday, Sep. 11, 2022 at 1:00 pm
-to-
Tuesday, Sept. 13, 2022 at 4:30 pm

Where:
Omaha Marriott Downtown at the Capitol District
222 N 10th St.
Omaha, NE 68102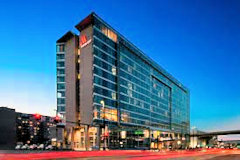 Take a tour of the Omaha Marriott Downtown.

Conference Room Rate*:
Group Rate: $164/night plus taxes and fees for single/double occupancy.
Government Rate**: $110 night plus taxes and fees for single/double occupancy.


*Rates available 3 days before and after the conference, subject to hotel availability.

**Must have valid government ID at check-in.

Group Reservation Websites – make your hotel reservation online!
Associate Members Reservations
Government Members Reservations

Last day to book group rate is Sunday, August 21, 2022.

Public Transportation:

Airline Travel: Eppley Airfield (OMA) is located approximately 15 minutes (4 miles) from the Omaha Marriott Downtown at the Capitol District Hotel and is serviced by major airlines. Please visit the website for more information.

Airport Shuttle: There is a complimentary shuttle to and from Eppley. It runs on every hour and half hour. To schedule a pickup, call the Omaha Marriott Downtown front desk at 402-807-8000.

Hotel Parking Rates:
Valet – $29 per day
Self - $24 per day
Daily Self-parking:
• 0-59 minutes - $7
• 1 hour to hour and 59 minutes - $11
• 2 hours to 2 hours and 59 minutes - $15
• 3 hours to 7 hours 59 minutes - $19
• 8 hours or more - $24


Daily Valet: $20

Conference Host – Contact:
Hobert Rupe at 402-471-2574 or Hobert.rupe@nebraska.gov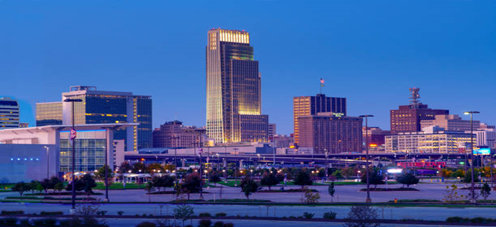 NCSLA 2022 CENTRAL/WESTERN REGIONAL CONFERENCE
Omaha, Nebraska

Conference Information

Nebraska has wonders in every direction: vast river valleys in the east, majestic cliffs and peaks in the west and sand dunes in between, making for a trip as scenic as it is fun. The state is also rich in history, with many opportunities to explore its heritage. When they offer you steak, don't turn it down. It's some of the world's best, part of a long-standing tradition of heartland comfort food brought in straight from the farm. No matter where you go or where you're from you'll always be welcomed with a warm smile.

Business Meeting

The Nebraska Liquor Control Commission welcomes you to Omaha and is pleased to be this year's conference host. The 2022 Central/Western Regional conference theme is "The Future of a Well-Regulated Industry" and the program will cover a number of current topics that regulators and industry are dealing with right now. Our goal is to bring you some new faces on our panels and a good balance of industry and regulator perspectives.


Some of the featured panel presentations will include: wholesale challenges post Covid discussing new ways of distribution in a modern society, third party shipping models, and a labeling panel. Other panels will examine unique licenses and all the challenges that they bring, plus a discussion on digital ID's and information harvesting. We also have a special presentation by the Nebraska Attorney General's Office on human trafficking, and a Whiteclay panel updating where the community stands five years post closure of the beer stores.

Social Activities

Naturally, we will be engaging in the usual and customary activities that are bell weathered traditions of the NCSLA. Join us Sunday night for the conference welcome reception from 6:00-8:00 pm. The hospitality suite is a great opportunity for networking and open each night during the conference. On Monday night we will take a trip to the world-renowned Henry Doorly Zoo for an event with baby elephants and giraffes. Don't miss it!

Registration Information
You have the option of paying by credit card or check. The registration fees are outlined below.
Registration Fees:
Government Member = $300 ($350 after 8/19/22)
STATE TRAVEL BAN? Contact Pam Frantz for details about the NCSLA Subsidy programs.
Associate Member = $450 ($550 after 8/19/22)
Non-member Associate (one time dues waiver) = $800
Invitee of NCSLA President or Conference Host = $450 ($550 after 8/19/22)
NCSLA Past President = Fee waived (NCSLA Bylaws Article I, Section 2)
NCSLA Past President Spouse = Fee waived
Spouse/Guest = $200
Spouse/Guest (Monday's Zoo event Only) = $100
Guest 3 – 20 Years Old = $150
Guest 3 – 20 Years Old (Monday's Zoo event Only) = $100
Guest 2 Years Old and Under = Fee Waived
If you are paying by check* please make it payable and mail to National Conference of State Liquor Administrators, 543 Long Hill Road, Gurnee, IL 60031 along with a copy of your registration.
*Please note that payment by check is not available after September 1, 2022.
CANCELLATION POLICY: All cancellations are subject to a $200.00 deduction per person. Due to contractual commitments, there will be NO REFUNDS AFTER SEPTEMBER 1, 2022. NCSLA Federal Tax ID Number: 52-6043243.
ATTIRE: Attire for all scheduled business and social functions is business casual for the entire event. The average high/low temperatures in Omaha are upper 80's with lows averaging 55-60 degrees Fahrenheit so be sure to pack for sunny comfortable weather!
SPECIAL NEEDS: Individuals with disabilities or special dietary requirements who need special accommodations should email hobert.rupe@nebraska.gov to make arrangements. Requests should be made no later than Tuesday, September 6th, 2022, to allow sufficient time for us to meet your needs.
EXHIBITOR INFORMATION: the cost of one (1) 6 ft. or 8 ft. skirted table for two (2) consecutive conference days is $400 per table. If you would like to purchase exhibit space please complete the Exhibitor section on the registration form. Exhibitor is responsible for making arrangements with the hotel. Please contact James Strathman with Encore Global at the Omaha Marriott Downtown to coordinate, and assist you with internet access or electrical needs (e.g. cords, power strips, etc.) and arrange for direct billing. James Strathman's email address is james.strathman@encoreglobal.com.
LOOK WHO'S COMING!
| Name | Organization | Title |
| --- | --- | --- |
| Chuck Crabtree | Iowa Alcoholic Beverages Division | Program Planner-Native Manufacturing Lead |
| Brandon Gonzalez | County of Hawaii - Liquor Control | Administrative Officer |
| Paula Thomas Gotshalk | County of Hawaii - Liquor Control | Liquor Commissioner |
| Pamela Frantz | NCSLA | Executive Director |
| John Harris | GrayRobinson, P.A. | Government Consultant |
| Sally Jefferson | Wine Institute | Director, Western States |
| Michael Kelley | Kelley Plucker, LLC | Attorney |
| Claire Mitchell | Stoel Rives LLP | Attorney |
| Craig Pacheco | Stoel Rives LLP | Attorney |
| Tyler Rudd | Wine Institute | Central States Counsel |
| Erik Schaeffer | Fintech | Manager, Regulatory Affairs |
| Alan R. Steen | Southern Glazer's Wine and Spirits | VP, Government Affairs |
| Wendy Turk | Fintech | Director, Regulatory Affairs |
| Laura Wentling | Ready Training Online | |